Late harvest & Sélections de Grains Nobles
LATE HARVEST WINES
AND SELECTION DE GRAINS NOBLES
---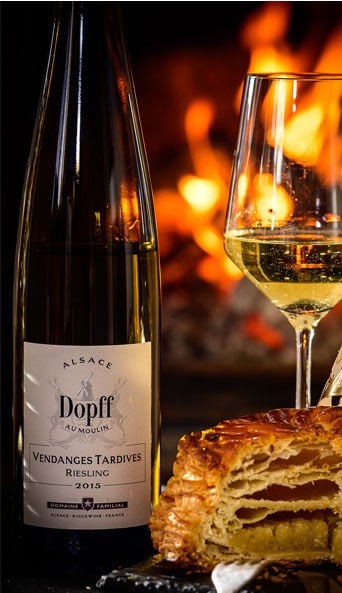 The « Vendanges Tardives » distinction
The "Late Harvest" distinction characterizes sweet and liquor wines with high aromatic complexity.
The distinction is limited to Alsace Grand Cru-like grape varieties (Riesling, Muscat, Pinot Gris and Gewurztraminer) being harvested at over-maturation. Those riper grapes give richer wines with powerful flavors and great cellaring potential.
The « Sélection de Grains Nobles » distinction
The "Sélection de Grains Nobles" distinction characterizes great, intense and remarkable wines. They are obtained through successive selections of grapes affected by noble rot (Botrytis Cinerea), manually selected berries during the picking. This random phenomenon only occurs in most favorable weather conditions. The sugar and aroma concentration serves the exceptional power, complexity and length.
Serving
In order to enhance the strength of those wines, they should be served with highly-flavored dishes: Foie Gras with spicy mango chutney, chicken curry, lobster with a light sauce, blue-veined cheeses for instance, or just by themselves.
« True masterpieces of remarkable complexity and length on the palate. » Etienne-Arnaud Dopff