« The different Alsace Grand Cru Appellations represent 1/5th of Dopff vineyards. »
From the beginning, the Dopff family was eager to promote and develop the Family Estate. Over time, with 70 hectares of own vineyards, it became the most important one within the Alsace Grand Cru region. First centered essentially around Riquewihr, the Estate then spread over other terroirs, particularly towards Hunawihr, Mittelwihr and also Colmar and Turckheim.
OUR TERROIRS IN
Alsace Grand Cru
---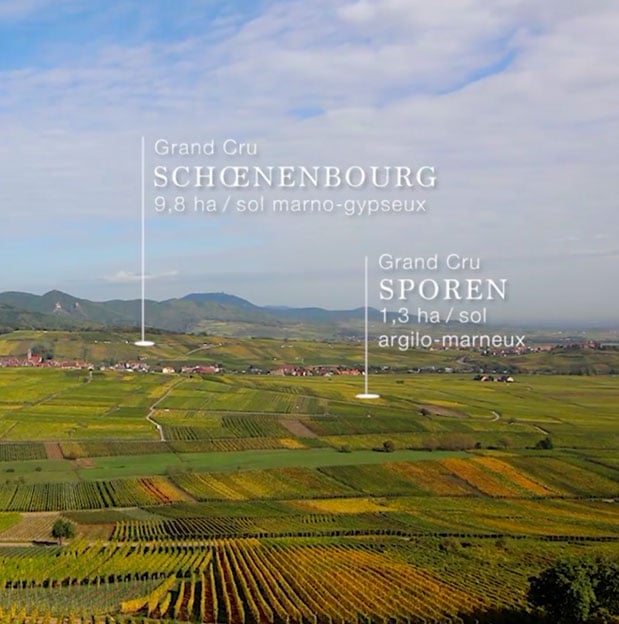 Grand Cru Schoenenbourg
This plot, located on Riquewihr and Zellenberg municipalities, covers 53.40 hectares. The vines run down the South and South-East steep slope of Schoenenbourg hillside at an elevation between 265 and 380 meters. The soil consists of water-retaining marl and gypsum.
The Schoenenbourg wines have been renowned since the High Middle Ages. Riesling dominates but Muscat and Pinot Gris are also doing very well there. They all are excellent shelf-wines.
The Dopff Grand Cru Schoenenbourg vineyard covers 9 hectares, 8 hectares of Riesling and 1 hectare of Pinot Gris. It consists of close to 10 plots spread out perfectly on this magnificent hillside. Each plot is harvested at peak ripeness and vinified separately. Our sweet Riesling wines (Late Harvest and Selection of Noble Grapes) come from this Grand Cru.
Grand Cru Sporen
Sporen is a natural, low slope, and South-East-oriented circus, South-East of Riquewihr.
It consists of clayey-marly soils that are rich in phosphoric acid. A deep soil spared from drought that gives complexity and special quality to the wines produced on it. They are famous for their finesse and elegance.
With close to 23.70 hectares, Sporen is mainly dedicated to Gewurztraminer and Pinot Gris.
Dopff Grand Cru Sporen consists of 1.33 hectares on a single plot that has been planted exclusively with Gewurztraminer in 1965.
Grand Cru Brand de Turckheim
Overlooking the city of Turckheim, this plot covers about 58 hectares and has an outstanding solar resource due to its South, South-East exposure. It spreads out on granitic soil at an altitude of 250 to 380 meters. Some remarkable terroir of great benefit for Riesling, Pinot Gris and Gewurztraminer in terms of full-body and elegance.
Dopff Grand Cru Brand of Turckheim-vineyard consists of 3.26 hectares, mainly planted with Gewurztraminer. Only 40 ares of Pinot Gris. Average age of the vines: 32 years in 2019.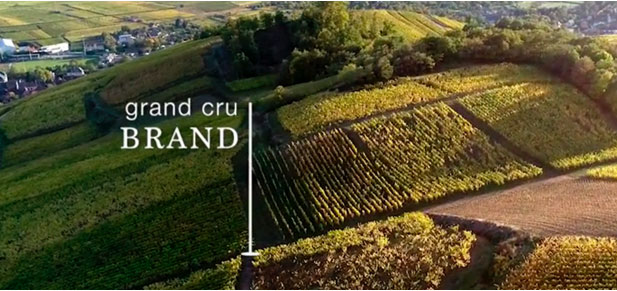 « Our Estate is one of the most important ones with an Alsace Grand Cru Appellation. This is most important for the quality of our wines. » Etienne-Arnaud Dopff
The Dopff Alsace AOC vineyards spread mainly over the Riquewihr municipality, between 250 and 380 meters of altitude. They account for half of Dopff's vineyards with 35 hectares. The average age of the vines is 30 years. Most of the vine stock is Gewurztraminer, Riesling, Pinot Gris, Pinot Noir and Pinot Blanc. The geographical situation of Riquewihr, nestled in a cool Valley with rich soils (clay and marl) gives our range of Alsatian wines complexity and elegance.
Our terroirs in
Crémants d'Alsace
---
The Dopff vineyards dedicated to Crémants d'Alsace are mainly located in "la Hardt" near Colmar (altitude 200 m) and in Riquewihr (altitude 350 m). All together, 20 hectares planted with Chardonnay (55%), Auxerrois and Pinot Blanc (40%) and Pinot Noir (5%). The average age of the vines was 25 years in 2019.