a Dopff tradition:
CRÉMANT D'ALSACE
---
Born at the end of the 19th century, in the shadow of its glorious neighbor in Champagne, Crémant d'Alsace got its own registered designation of origin (AOC) in 1976 at the initiative of Pierre Dopff.
Today, having reached its full maturity, Crémant d'Alsace has become big: it is now a reference during tastings and contests and has become the most popular non-Champagne sparkling wine in France.
The grape varieties
The grape varieties may vary from one Crémant Dopff to another.
Depending on the expected flavor, it is produced from a single grape variety, stated on the label (Chardonnay or Pinot Noir for instance), or from a skilful blend (Pinot Blanc, Auxerrois, Pinot Gris and Pinot Noir) for Crémant Brut Nature Bio Dopff for instance.
The grape variety most currently used for Crémants is Pinot Blanc that brings delicacy and freshness. The more complex Pinot Gris offers full-bodied flavors as Chardonnay is usually praised for its lightness.
No hesitation about Crémant rosé: it is exclusively produced with Pinot Noir (Blancs de Noirs as well).
Some long-maturation Crémants are vintaged. They show more buttery, even toasty notes.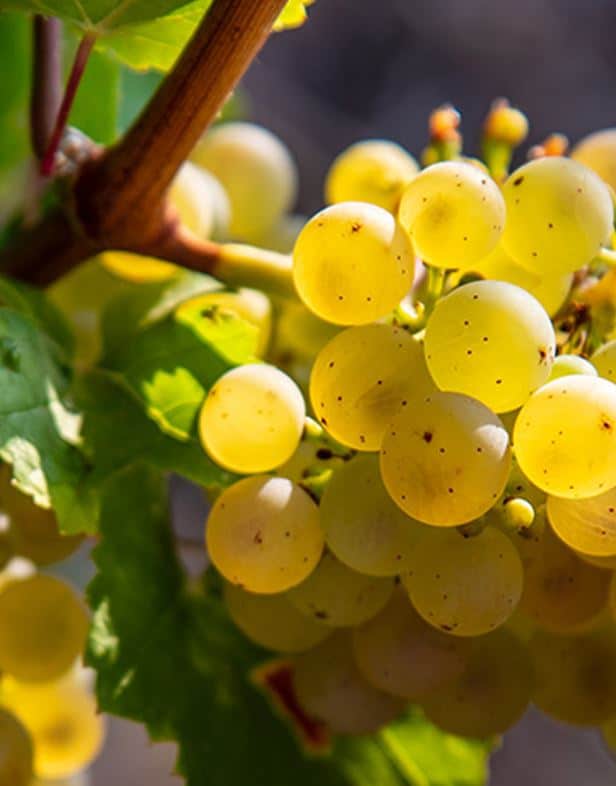 Crémant d'Alsace may be categorized according to the blend, the vintage or absence of vintage, the maturation time on the lees; The final touch during the disgorgement process is quite important too: at that time, the dosage adjustment occurs by addition of Liqueur d'Expédition or not.
This addition is a decisive fact for the mention:
BRUT NATURE: Less than 3 g of sugar and no dosage (no addition of Liqueur d'Expédition, but addition of Crémant to fill up the bottle).
EXTRA BRUT: from 0 to 6 g of sugar
BRUT: 12 g of sugar
EXTRA DRY: 12 to 17 g of sugar
SEC: 17 to 32 g of sugar
DEMI-SEC: from 32 to 50 g of sugar
DOUX: over 50 g of sugar
The Dopff Family has always preferred to give some dosage to the BRUT (around 6 g) in order to let the wine express itself and give that unrivalled tasting pleasure. This is made possible as only the first pressing (Cuvée) is being used for the making of Dopff Crémants. At last, longer maturation times on the lees reduce the level of acidity and provide perfect bubbles.
For a number of years now, cuvées have been made, such as BRUT NATURE, in order to enhance the level of purity. That is how the following Crémants were born: Wild Brut (in the 90's), Dopff Bio Brut Nature (2009) and Chardonnay with no added sulphur (2012).